MEAN WELL's power supplies have been used in a wide variety of electronic equipments, including factory control, IT, communication, appliances, medical, lighting, billboards, security, vehicle, etc…. , which is capable of meeting your needs.

Application Aspect
Q1
Points on connecting wires used in power supplies?
Ans
To install a power supply into the system, you would need wires for the connection both to the loads and to the energy source. There are a couple of points that should be taken into consideration when choosing wires, one is current rating, it may cause high heat on the wires or burnt out in the worst case, if the rating is not enough. The other is voltage drop, there would be voltage reduction at load side as current moves through the wires owing to the internal resistance. If too much voltage drop in line, there could be no sufficient voltage to drive the loads. You can find the right wires for use by referring to the table below on the basis of your system design.

Q2
What should we pay attention to if system implemented magnetic component?
Ans
Nowadays, customer implement magnetic component in their system to achieve fast installation and maintenance. The magnetic component should keep as far as possible from PSU to avoid interference in the control circuitry of PSU. If limitation of distance is unavoidable, install a well magnetic-conducted metal plate (ex: steel plate, copper plate) between PSU and magnetic component to minimize the interference.
Q3
Requirements on parallel operation?
Ans
When power supplies are connected in parallel, it is able to increase the output current or use them as the redundant (back-up) function. Be sure that the difference in
output voltage and wiring impedance should be small when operating in parallel.
1. Connect P(LP/CS) terminals together such as the PSP models (Please refer to the parallel function of specification). Input and output should be connected in parallel before connecting to the AC source and loads. Shown as in picture below (some S.P.S. require a minimum load after paralleling).



2. Output voltage difference between S.P.S. units should be as small as possible, normally < 0.2V.
3. The power supplies should be paralleled with short and large diameter wiring together first, and then connected to the load.
4. After paralleling, the maximum usage of total power should be around 90% of the rated total power.
5. When power supplies are paralleled, if the load is lower than 10% of rated load of individual S.P.S. The LED indicator or signals (Power Good、Pok、Alarm Signal) may malfunction.
6. To ensure that the load current is effectively shared in parallel operation, in general, it is recommended not to use more than 4-6 power supplies at one time.
7. In some models, the +S, -S terminals should be used to reduce unstable pulsation of output voltage.
Q4
During the operation of your power supply, there is some leakage current on the case. Is this normal? Will this leakage current hurt human body?
Ans
Due to the requirement of EMI, there will be some Y capacitors between line and neutral to the FG (case) to improve EMC. These Y capacitors will cause some leakage current flow from line or neutral to the case (normally case will be connected to earth ground). For example, IEC-60950-1 requires that this current should be less than 3.5mA for IT equipment, so basically the leakage current you find on the case will not hurt human body. Proper connection to Earth ground will solve the leakage current problem.
Q5
What should be noticed when installing a power supply in vertical and horizontal directions?
Ans
Most small wattage and fanless power supplies are mainly installed in the horizontal position. If you have to install it vertically because of mechanical limitation, you should consider the output derating due to the heat concern. The temperature derating curve can be found on the spec sheet. Regarding the power supplies with built-in fan or the application has forced cooling system, vertical and horizontal installations have less difference. Ex. In SP-150 derating curve, the ambient temperature difference in application is 5 Celsius from vertical to horizontal. The output wattage in forced cooling can be 20% higher than air cooling convection.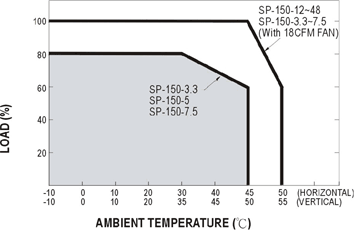 Q6
How to select a suitable proper circuit breaker or fuse for MEAN WELL SPS?
Ans
At input side, there will be a large transient inrush current during the power on of an SPS. The inrush current is usually of 20~100A based on the design of SPS, which will last for 1/2~1cycle of AC input (ex. 1/120~1/60 seconds for 60Hz AC source). Every breaker or fuse will actually have its own time-current (V-I) characteristic curve. Users can choose a breaker or fuse which has a rated current just over input current of SPS and check whether the V-I curve of the breaker or fuse can withstand the high inrush current from the SPS with a maximum duration of 1 cycle of AC input (e.g. 1/60 second).